NPCA President Emeritus Chic Dambach has previously been nominated for the Nobel Peace Prize. Now Oklahoma State University has launched a scholarship program in his honor.
By Steven Boyd Saum
Illustration by Matt Wuerker
October brought a special celebration for a leader in the Peace Corps community. The School of Global Studies at Oklahoma State University announced the creation of the Dambach Peacebuilder Endowed Fellowship, a program for students with a career interest in global peace. Named after OSU alumnus and NPCA President Emeritus Charles "Chic" Dambach, the fellowship will provide funding for students in the school's graduate program and support a new generation of peacemakers.
At OSU Dambach was also inducted into the Henry G. Bennett Fellowship, an honorary recognition of some three dozen global leaders including Colin Powell, Condoleezza Rice, Tony Blair, Vincente Fox, Harriet Fulbright, and other notables. One special part of the festivities for Dambach, who arrived at OSU in 1962 courtesy a football scholarship: They introduced him at the OSU vs. Texas Tech football game, before a capacity crowd of more than 55,000.
A fishing village in Colombia
Dambach's college football career was sidelined by a shoulder injury. The Cowboys' loss on the gridiron was global peacebuilding's gain: Dambach devoted energy to working with other students to draw attention to issues of political and cultural significance in the mid-'60s. "Even at a very conservative school and against intense pressure from administrators, we mobilized large demonstrations for free speech and against the war," Dambach recalls. "We played a major role in persuading U.S. Senator Fred Harris to reverse his position and oppose the war. He announced his opposition at one of our rallies where I introduced him."
The connection with the senator endured: A few years ago, Harris attended the 50th reunion for Dambach and his OSU classmates. It was also Dambach's longtime friends who, unbeknownst to him, launched the effort to create the fellowship.
Dambach joined the Peace Corps after graduating from college, and he served as a Volunteer in a small fishing village in Colombia 1967–69. He worked with community partners to form a worker's co-op, obtain loans, build a school, and acquire gear needed for fishing. Decades later, he served as president and CEO of National Peace Corps Association (1992–98) and now carries the title of NPCA President Emeritus.
He also became a national champion kayak racer and served as an official in the Olympic Games for canoe and kayak competitions in 1988, 1992, and 1996.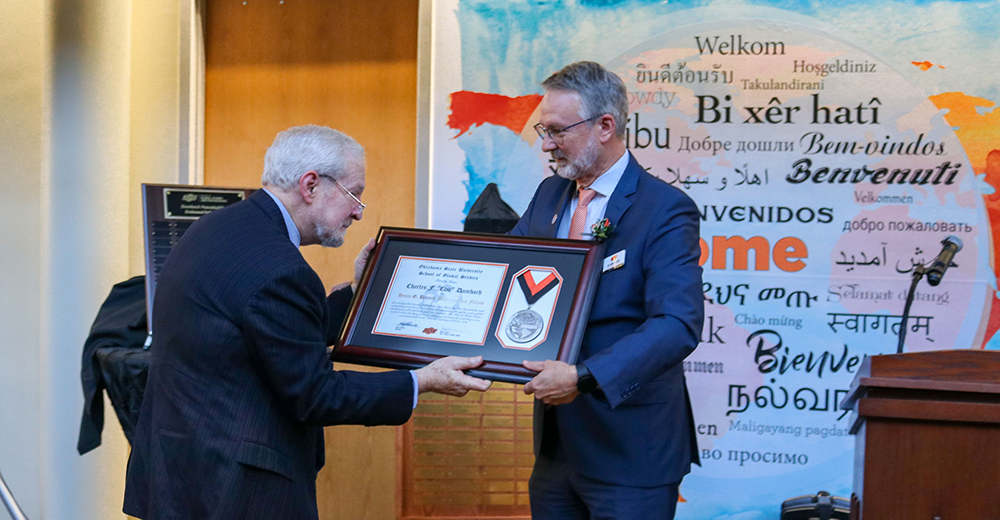 Charles "Chic" Dambach accepting the Henry G. Bennett Distinguished Fellow award from Dean Randy Kluver at the Dambach Peacebuilder Endowed Fellowship announcement. Photo Courtesy of Oklahoma State University
Nobel Peace Prize nominee
After a long career that included work in sports diplomacy and nonprofit management, Dambach put his skillset in peacebuilding to work with others in the Peace Corps community to help negotiate peace between Ethiopia and Eritrea to end a brutal border war. Later, Dambach served in a similar facilitating role in addressing internal conflicts in Mali and the Democratic Republic of the Congo.
After leading NPCA, Dambach went on to serve as president and CEO of the Alliance for Peacebuilding; interim CEO for Operation Respect; and chief of staff for RPCV Rep. John Garamendi (Ethiopia 1966–68). Dambach has taught at Johns Hopkins, American University, and George Washington Univeristy, and he has been a Woodrow Wilson Visiting Fellow. His personal story and his insights on peacebuilding shape his memoir, Exhaust the Limits, as well as his popular TEDx talk, "Why Not Peace?"
Dambach's efforts in peacebuilding have been recognized by a multitude of organizations, groups, governments, and individuals. In 2017 he was nominated for the Nobel Peace Prize.
Students obtaining a master's degree from the School of Global Studies and Partnerships at OSU can apply for the Dambach Peacebuilder Fellowship.
Chic Dambach says he appreciates that to qualify for a scholarship, applicants must possess "both the hearts and the minds of peacebuilders" with plans for a career focused on global peace. "All of it fits nicely with our desire to promote a culture of service," he says. As for the notion of a fellowship bearing his name, "I am blown away by the honor…But I am willing to embrace the fellowships on behalf of so many good people — Peace Corps people — who continue to make a positive difference in the face of strong headwinds."
---
LEARN MORE about the Dambach Endowed Peacebuilder Fellowship: dambachpeacebuilderfellowships.org
---