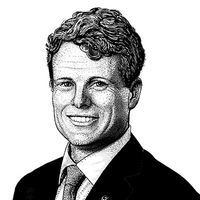 A concluding moment to the service of Joe Kennedy III in the House: legislation to enable work on the Peace Corps Commemorative to carry forward
By Jonathan Pearson and Steven Boyd Saum
Illustration by Edward Rooks
Joseph Kennedy III served as a Peace Corps Volunteer in the Dominican Republic. After he was elected to represent Massachusetts in the U.S. House of Representatives in 2012, one of the first pieces of legislation he introduced and passed focused on Peace Corps: It provided congressional authorization for the creation of a Peace Corps Commemorative in Washington, D.C.
In September 2020 the design was unanimously approved by the Commission on Fine Arts. But authorization for completing the project was set to expire before ground would be broken. On December 17, 2020, in the closing days of Kennedy's tenure in the House, he and others secured passage of a time extension that will allow work on the commemorative to continue. Colleague Rob Wittman (R-VA) noted that it is fitting for the legislation to be sponsored by President Kennedy's grandnephew.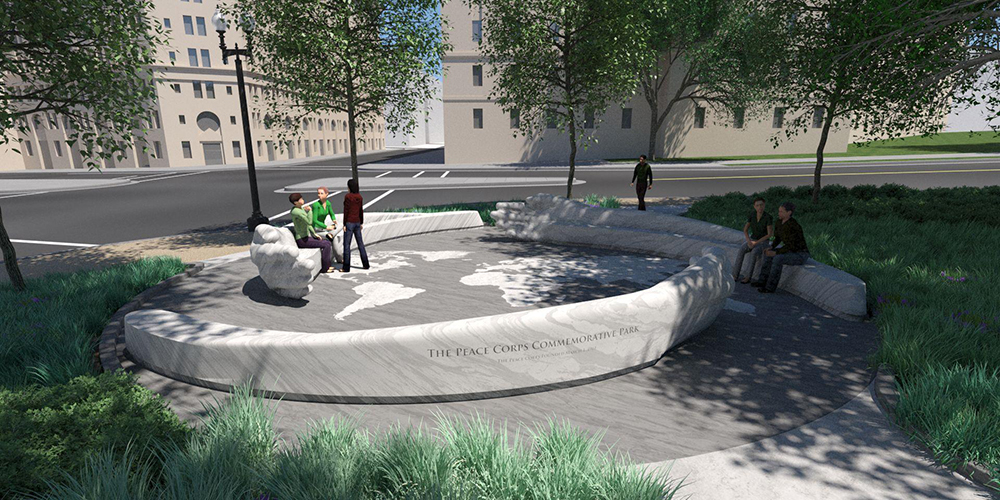 Photo by Drew Altizer Photography. Rendering courtesy Peace Corps Commemorative Foundation
And Rep. Ruben Gallego (D-AZ) said the commemorative will serve as a "lasting tribute to the legacy of the Peace Corps."
Late on December 20, the Senate unanimously approved the legislation. Sponsors Rob Portman (R-OH) and Jeanne Shaheen (D-NH) issued a release paying tribute to Volunteers. "For more than 50 years, the Peace Corps has served as a powerful vehicle for Volunteers who wish to use their talents to carry America's humanitarian values to other parts of the world," said Portman. "We can ensure the Peace Corps Commemorative Foundation can finish this important project and honor those Americans who have donated their time and talent to serving others."
President Trump signed the bill into law on January 5.
---