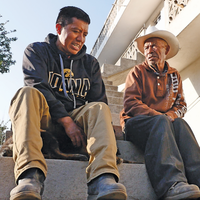 Jacobo is a compact, 43-year-old man with too many teeth and a big smile. He is about to address a Monday morning class of 23 pre-med students from Minnesota's College of Saint Benedict and Saint John's University who are on a three-month immersion Spanish language program in Quetzaltenango, Guatemala's second largest city. On the day before, Jacobo stood in the living room of the two-story house in the village of San Lorenzo that he built for his family. The house, like Jacobo, is a bit unsettled. Four of the five bedrooms remain vacant and his father sleeps in what is supposed to be the dining room. At dawn the next day, he got on a chicken bus, as local buses are called, for a two-hour ride and then a transfer to a crowded 20-minute urban van ride in Quetzaltenango.
He begins speaking in Spanish, nervously, "I grew up in Guatemala, one of eight brothers and sisters. We lived in a thatched roof one-room house. There we cooked, ate and slept." Then he adds, "Ours was a life of poverty." The students are all in Guatemala to perfect their medical vocabulary, learn the culture first-hand and conduct community service projects. Most are proficient in Spanish but a local teacher translates into English for those who do not understand. Everybody listens attentively. Jacobo is not a stranger to them. They just saw him in "Abrazos," the second film of my immigration documentary series. The film follows 14 U.S. citizen children who seven years ago traveled from Minnesota to Guatemala to meet their grandparents for the first time. Jacobo's two eldest children were on that trip and are part of the film.
In those days Jacobo lived in Worthington, Minnesota, and in the film he talks about the daily anxiety of his limited mobility and the pervasive fear of detainment and deportation. "When I leave my home, I don't know if I will make it back. That is the fear with which we live." His state of mind is like that of millions of immigrants without proper authorization.
The young pre-med students absorb each of Jacobo's words as if they are watching Woody Allen's "The Purple Rose of Cairo" in which a character on the screen steps out into the real world to continue addressing them. "I am a man with a divided heart. Part of it is here with my aging father and part of it is in Worthington, Minnesota, with my wife and my four U.S. citizen children."
A Five-Year Plan
Jacobo was once an eager 15-year-old student whose parents lacked the money to pay for books, a bus ride, or clothes so that he could continue his studies. Guatemala was immersed in a 36-year civil war during which the life of any young man was precarious; the army could force him to enlist, the armed guerrillas could recruit him, or either side could accuse him of being the enemy and kill him. In 1993 Jacobo left San Lorenzo, San Marcos for the United States where he applied for asylum. His case was denied in 2002.
His plan was to make money in the States, return when the war ended, and go back to school. "My goal was three to five years," he tells the American students. "Being alone and away from my parents was very difficult. One wants money but there is something more important, the love of your parents.
"Learning the ropes in the United States was very hard. I did not know the language nor understood the currency." He worked hard harvesting tomatoes in Florida for two years, and picking fruit for seven in Michigan where two of his sisters live. That is where he met Isabel, who had grown up in another mountain village near San Lorenzo.
Jacobo and Isabel married. When their first child was born, he bought some fake documents in order to get a new job. He later pleaded guilty to using the fake documents and that legal case haunted him for 10 years. "At that time returning to Guatemala or staying in the U.S. was the hardest decision I had faced in my life," he says. They decided to move to Worthington, where he got a job working on a hog farm. He worked hard, planned carefully, saved money, lived frugally, raised their four children, and prospered. "I bought a house in the U.S.," he says proudly.
He also sent money home to his parents and bought a plot of land to build a house in San Lorenzo. He paid U.S. federal and state taxes, became a leader in his local church, and was promoted to become the supervisor of the hog farm. In 2013, I filmed his children taking their first trip to Guatemala. In the church, Isabel sang lead vocals for Granito de Mostaza – Mustard Seed – one of the most popular music groups in their Worthington parish. The oldest of their sons will graduate from high school this spring, but his father will miss the ceremony.
Threat of Deportation
Four days after his children returned from their trip to Guatemala in 2013, Jacobo's car was stopped by a Worthington police officer for "suspicious movement of the car passengers." He was arrested and U.S. Immigration and Customs Enforcement issued an immigration detainer to begin deportation proceedings. The group that sponsored the children's trip, Abuelos y Nietos Juntos, organized a petition drive and, with the support of the Guatemalan embassy, Jacobo was allowed to stay in the United States under an Obama administration policy of "prosecutorial discretion" that required he report to authorities every three months.
All of that changed in 2017 when the Department of Homeland Security began to consider all unauthorized immigrants an enforcement priority. During a regular check-in, authorities said next time you come in, bring a one-way ticket to Guatemala or we'll put you on a deportee flight.
Jacobo asked, can I go by land?
Yes, the ICE official replied. You are not a criminal, you can go by land.
"I felt split," Jacobo tells his Quetzaltenango audience. "I had the option of hiding because they did not deport me, but I was tired of hiding and I had not seen my dad in over 24 years and wanted to spend time with him before he died." He had missed his mother's funeral, so deportation would at least give him time with his elderly father.
He also pondered the consequences of leaving Isabel and his four children. "I wondered," he says, "what will happen to my children the day I leave? They can fall into drugs, disobey their mother. But if I make them go with me to Guatemala, I will be taking away the opportunity for them to study here in the U.S.
"And I put myself in their place. They are living a better life there. Taking them to Guatemala is to expose them to a place that is dangerous. Also, I asked myself, 'How am I going to make a living in Guatemala?'"
"I realized that a family that lives without a father is sad. My children need their father. I need the love of my children." Finally, Jacobo told his wife, "I better go alone and look around to see how things are, see what I can do. Figure out how the six of us can survive there. So, I'll go by myself."
With the authorization of ICE, Jacobo drove to Guatemala in September of 2017.
Building a Guatemalan Life
Jacobo is one of thousands of Guatemalans who are deported on a daily basis. They go back to a country they don't really know. At best, they face indifference and, at worst, stigmatization and hostility.
To reduce irregular migration, its root causes must be addressed. Poverty, inequality, environmental degradation, and corruption need to be transformed with long term investment in education, health, governance, and environmental protection. To abate the recurrent migration of returnees after decades abroad, we must foster a true sense of belonging for them. A holistic reintegration program that focuses on mental health, access to necessary documentation and educational records, skills-certification, re-training, job placement and support groups, should be created for returnees. In addition, a public information campaign should be designed to present the true face of immigrants and fight social stigma and job discrimination.
"Today, after 24 years, I'm back in my country with my father but my family is back in the United States," Jacobo tells the pre-med students. "I am in a country that I do not know. Of which I know nothing. I find my dad who is older and a country where I do not have access to a job." When he finally told his father that he was deported, his father said he must be a criminal or the United States would not have sent him back.
Since he left 19 months ago Jacobo has talked with his family in daily video phone calls. Back in Worthington, 2,555 miles away, Isabel and their four U.S. citizen children struggle. Isabel cleans private houses and the parish house. She tries to manage an 11-year-old daughter and three teenagers. The oldest son, 18, works after school at a local supermarket and is grappling with his studies. The youngest boy, 14, is failing almost every class. When he comes home he stays in his room, playing video games. In one of their calls, Jacobo asks the 14-year-old, "Are you behaving that way because I am not there?"
In Guatemala, Jacobo has been busy. He and a nephew started a live video business which, via Facebook, transmits local family events like quinceañeras, baptisms, and other events to family members in the United States. One day someone dropped off a disposable phone to their office and told them they should expect a call. Within 24 hours a call came: pay 2,000 quetzales, $266, every week or face the consequences. Everyone here knows that the consequence is being killed. Jacobo and his partner paid for the first week, and closed the business the following day.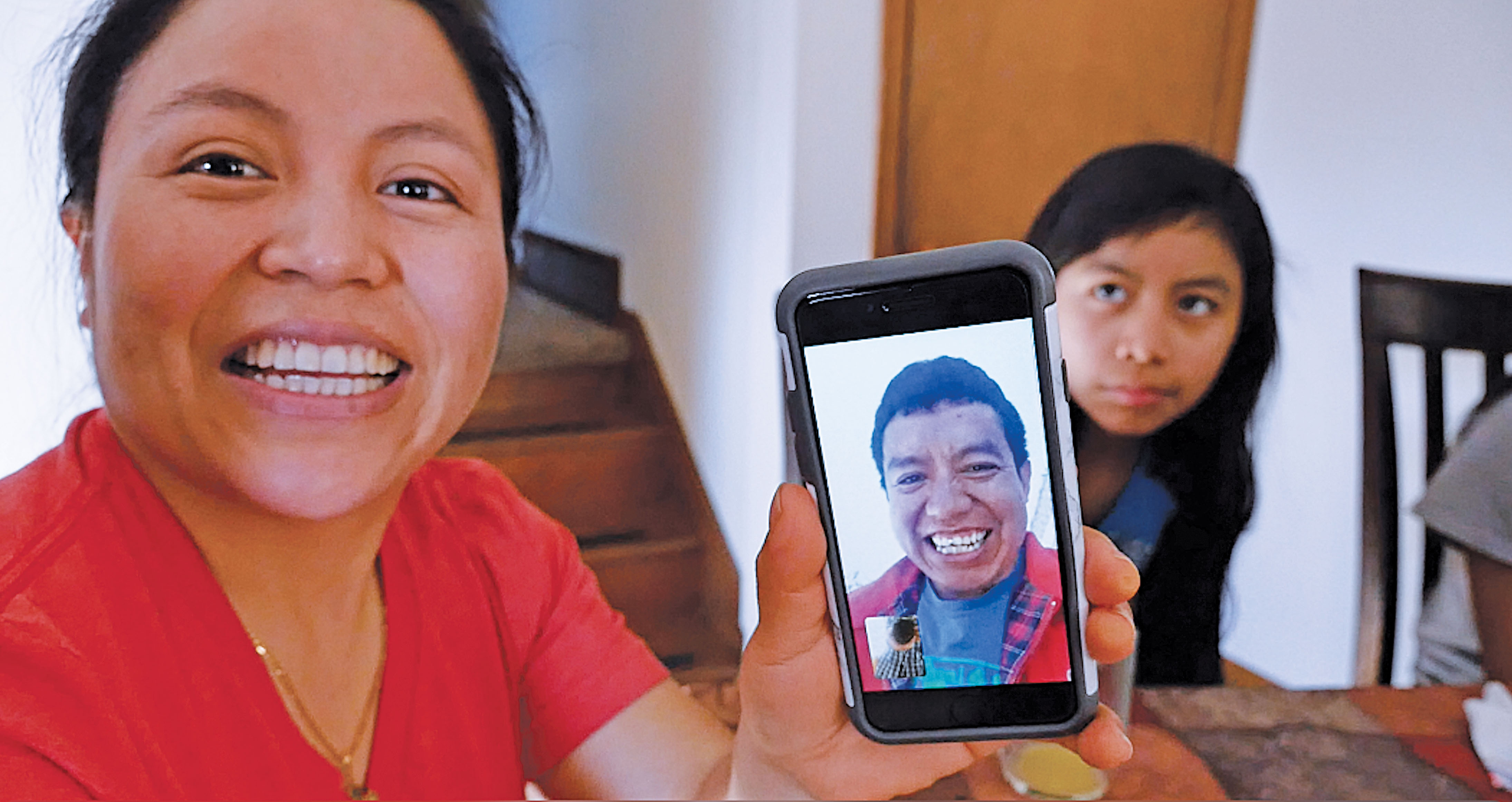 Jacobo's wife, Isabel, and 11-year-old daughter, talk almost daily in video calls with Jacobo, who was deported to Guatemala in 2018.
Jacobo then enrolled in an automotive repair course at the Quetzaltenango branch of INTECAP, the national vocational school, making the two-hour commute from San Lorenzo for 12 months and began an internship in a Quetzaltenango garage. The garage is a franchise with armed guards at the entrance. The Guatemala City owners come rarely and they are driven in armored SUVs and are surrounded by professional bodyguards.
There is no automotive repair shop in San Lorenzo, so the opportunity seems to be there, but that is the place where he and his nephew were victims of extortion. Should he consider opening a shop in the state capital, San Marcos?
Fearful of more extortionists, Jacobo keeps his story to himself. He says, "Calladito me veo más bonito." I look prettier with my mouth shut. "I don't tell them I am a returned migrant. I never speak English. I never mention I have family in the United States."
Jacobo is confronting his dilemma. Should he continue living separated from his family or bring them to live in Guatemala with him? Before leaving Minnesota, Jacobo told his oldest son, "You are going to live what I lived. I lost my parents and you're going to lose your dad. With the difference that you have your mom."
What Jacobo is Learning
To the North American pre-med students, he says, "My children have the opportunity to live 50 percent of what I lived. They have a comfortable home, an education and the love of their mother, even if I'm not with them." But the survival of his marriage is also on his mind. "We know that a consequence may be a split of the family. As the popular refrain goes, 'here there are many women, and over there are many men, and we are free to choose.'"
However, Jacobo's defining characteristics include his optimism and his belief that love will conquer all. "Yes, we are free to choose," he says, "but that is where love comes in. Do we love? If we do, we will suffer. But if we love we will achieve something better in the future. If I love my family I must respect them. And if I love my dad I should also give him some time because you never know how much longer he will live."
Another of Jacobo's key characteristics are the clarity of his goals and his unshakeable faith. "My desire has always been to be somebody in life. And, someday, to be complete. To have my heart complete. For me not everything ends here. This is my desire in life, to be a positive person and recognize we are all brothers and sisters.
"I am sad but will not give into sadness. My children have a future in the United States. I am not sure how long I will be here but I look forward to one day finding a way to go back to the U.S. legally.
"I understand that here in Guatemala there are a lot less opportunities. But the possibility exists of making one's opportunities. I look forward to creating a new life. We must keep going with hope. And even if hope ends, faith will not. That is what I have lived."
Today Jacobo lives in a big, sturdy, yet empty, house, built with his work and forethought, and is able to accompany his father in his waning years. He misses his wife and children, but he is determined to find a way to get ahead in the country of his birth.
Jacobo celebrated his birthday in April with his father, his sister, his niece, and a couple of close friends around him. The cake, the refreshments they served, and the decorations were made possible with money sent by his sister, who lives legally in California. Isabel and the kids participated via video call. He and his kin exemplify the resilience and solidarity of immigrant families even when separated by distance and time.
Luis Argueta is the award-winning film director and producer of Guatemala's first Oscar submission, "The Silence of Neto," and the immigration documentary series, "aBUSed," "The Postville Raid," "Abrazos," and "The U Turn." He has been selected the 2019 Harris Wofford Global Citizen Award winner and is the recipient of The Order of the Quetzal, Guatemala's high honor.
This story was first published in WorldView magazine's Summer 2019 issue.
---