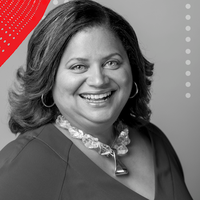 Meet the new presidents of the Poetry Foundation and the YMCA of the USA. For the first time at both of these venerable institutions, there's a woman at the helm.
Michelle Boone
President of the Poetry Foundation
CHAD | 1994–96
Photo courtesy the Poetry Foundation
Named in April as the new president of the Poetry Foundation, Michelle Boone is the first woman of color to lead the storied Chicago-based institution, which publishes the century-old journal Poetry, one of the most prominent literary journals in the United States. Along with her Peace Corps service, Boone brings over 20 years of experience to the new role, including prominent positions at the Navy Pier; the Joyce Foundation; and Chicago's Department of Cultural Affairs and Special Events.
During her tenure at DCASE, she helped facilitate the Chicago Cultural Plan and also championed the Chicago Architectural Biennial in 2015. Boone told The New York Times that she was heavily influenced by poetry while growing up in Chicago in the 1970s, when the Black Arts Movement saw the emergence of poets like Gwendolyn Brooks and Oscar Brown Jr.
Suzanne McCormick
President and CEO, YMCA of the USA
THAILAND | 1989–91
Photo courtesy YMCA
The YMCA of the USA announced its new president and CEO in August: Suzanne McCormick, who becomes the first woman to lead the Y in the United States. McCormick brings more than 27 years of experience as a senior and executive leader, most recently serving as U.S. President of United Way Worldwide. She has been responsible for helping the 1,100 local United Ways across the U.S. address communities' most pressing challenges.
Prior to assuming this national role, she spent five years as president and CEO for United Way Suncoast and 13 years at United Way of Greater Portland in Maine — including four as president and CEO — during which she set strategic direction for Let's Go, a preventative childhood obesity project, and three school district community-based partnerships focused on school success. McCormick was just recognized by The NonProfit Times as one of 2021's NPT Power & Influence Top 50.
---