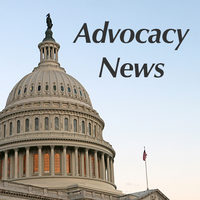 As Congress begins to turn its attention to Fiscal Year 2022 appropriations bills, is the Peace Corps poised for a funding increase?
By Jonathan Pearson
There's a long way to go in the annual appropriations process. But the possibility of a meaningful Peace Corps funding increase — which would be its first in six years — got a boost recently through the annual Senate Peace Corps funding letter.
Led by Senators Dianne Feinstein (D–CA) and Susan Collins (R–ME), the letter to the Senate Appropriations Committee for State/Foreign Operations requests "appropriate robust funding in Fiscal Year 2022 of at least $430 million." Here's a release with more about the letter. And here's the full text of the letter itself.
Earlier this year, 156 members of the House of Representatives signed a similar letter, requesting $450 million for Peace Corps in the fiscal year that begins October 1, 2021. However, earlier this month, President Biden requested continued flat funding for the Peace Corps — which would not provide the kind of robust support needed as Peace Corps prepares to return Volunteers to the field and enact needed reforms.
Take Action: Contact members of the Senate and the House
We urge you to write to your members of Congress and ask them to provide the Peace Corps with a long overdue raise in Fiscal Year 2022. It is especially important to write to lawmakers who serve on the Senate/House Appropriations Committees.
Who Signed the Senate Letter?
Here's the state-by-state list of signers of this year's Senate letter:
Arizona: Sinema
California: Feinstein, Padilla
Colorado: Bennet
Connecticut: Blumenthal, Murphy
Delaware: Carper
Georgia: Warnock
Hawaii: Hirono, Schatz
Illinois: Duckworth, Durbin
Maine: Collins, King
Maryland: Cardin, Van Hollen
Massachusetts: Markey, Warren
Michigan: Stabenow
Minnesota: Klobuchar, Smith
Nevada: Rosen
New Hampshire: Hassan, Shaheen
New Jersey: Booker, Menendez
New Mexico: Heinrich, Lujan
New York: Gillibrand
Oregon: Merkley, Wyden
Rhode Island: Reed, Whitehouse
Vermont: Sanders
Virginia: Kaine, Warner
Washington: Cantwell
West Virginia: Manchin
Wisconsin: Baldwin
---
Jonathan Pearson is the Director of Advocacy for National Peace Corps Association. Contact advocacy@peacecorpsconnect.org to find out how you can help.
---