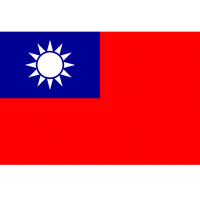 The trio's arrival coincided with an increase in military activity by China. The visit was meant to reassure Taiwan that the U.S. is a "reliable and trusted friend."
By NPCA Staff
Flag image from Wikimedia Commons
Former U.S. senator and Returned Peace Corps Volunteer Chris Dodd, along with two former deputy secretaries of state, Richard Armitage and James Steinberg, who served under presidents George W. Bush and Barack Obama respectively, headed to Taiwan in April. The trio made up an unofficial delegation dispatched by President Biden.
Their trip coincided with the 42-year anniversary of the Taiwan Relations Act; the visit was meant to underscore U.S. commitment to Taiwan and its democracy, and reassert that the administration would be a "reliable and trusted friend." Notably, the visit also took place amid increased military activity by China in the area, including a flight by 25 warplanes into Taiwan's self-defined air defense identification zone on one day in April.
Dodd served as a Volunteer in Dominican Republic 1966–68 before representing Connecticut in the U.S. House of Representatives for five terms and in the U.S. Senate for three terms.
---