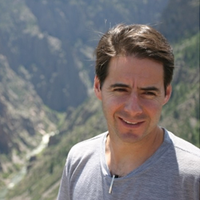 Renowned writer Peter Hessler had planned on spending five years back in China with his wife and daughters. But the university he was teaching at did not renew his contract.
By NPCA Staff
Writer Peter Hessler made an unexpectedly early return to the U.S. this summer. In 2019, the New Yorker correspondent, who served with Peace Corps China 1996–98, moved to the city of Chengdu to teach — more than 20 years after he taught at Fuling Teachers College as a Volunteer. He was planning on a five-year sojourn with his wife and daughters. In May he learned that his contract for teaching nonfiction at Sichuan University-Pittsburgh Institute had not been renewed.
What happened?
The university emailed a statement to Reuters explaining that they had been unable to reach terms for renewing Hessler's contract. Reuters also noted that in March, Hessler participated in the China Development Forum, "a high-profile government-run event, where he spoke on a panel on media perspectives of how the COVID-19 outbreak was handled in Wuhan."
And as Foreign Policy noted, the government of China expelled 18 international journalists from the country in the first half of the year alone.
---