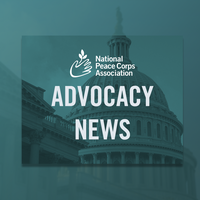 When the Peace Corps community comes together we have a collective, powerful voice! That is certainly the case with our amazing, energetic affiliate groups.
As the Trump administration prepares the fiscal year 2020 budget it will present to Congress next February, the National Peace Corps Association (NPCA) sent this letter signed by representatives of 109 affiliate groups requesting a "modest but meaningful funding increase" for the agency.
This annual letter serves as our initial volley in the federal appropriations process and it could not happen without people like Gregory Jones, President of the Friends of Nigeria (FON), who has regularly signed the letter on behalf of the 1,700 FON members. "It is a privilege to endorse this appeal for funding for the Peace Corps organized by the NPCA. FON represents a group of volunteers who served in a country that has not had Peace Corps volunteers since 1972, so for most of us the experience was 50 or more years ago. It still ranks as a highlight in our lives, and we are eager to urge the President and Congress to make that experience available to a full cadre of current volunteers."
That sentiment was echoed by Gloria Levin, President of Amigos de Bolivia y Peru. "We urge the support for all three of Peace Corps' founding three goals, viewing all three as interactive and critical to assure that Peace Corps' magic will endure. Returned Peace Corps Volunteers' organizations provide us the platform for our collective voices to be be heard by decision makers regarding the size of Peace Corps' budget and allocations among priorities."
Funding for the Peace Corps has been steady – from a dollar value – at $410 million for the past four years. But citing the Bureau of Labor Statistics, that letter contends when adjusted for inflation, Peace Corps should be at more than $430 million today. "Because of this decline in purchasing power, the agency faces a difficult choice of reducing the number of volunteer opportunities or reducing important, staffing, training or services that support volunteers in the field."
"No matter who may be in office, it is of extreme importance to remind Congress just how far US tax dollars go by funding the Peace Corps", said Jessica Szalawiga, President of the Kansas City Area Peace Corps Association. "We understand the impact that a collective call to action can have. The Peace Corps experience leads to continued service to our country through serving our individual communities."
Your Turn – Write to the President!
Our affiliate groups have taken action. Now it is your turn! During the past two years, President Trump has proposed consecutive funding cuts to the Peace Corps – something no president has done in nearly 35 years, since the days of President Reagan, when his nominee to direct the Peace Corps – Loret Miller Ruppe – is widely credited with saving the Peace Corps!
Follow this link to send your message to the president.
Then, follow this link to help us ensure a strong and vibrant Peace Corps moving forward.
---