Serve the Community, the Rest Will Follow
NPCA is the world's premier network for all those who share the values of the Peace Corps. To sustain its work as a 501(c)(3) nonprofit, NPCA relies primarily on investments from generous individuals and organizations. Our community consists of free members, WorldView subscribers, and Mission Partners, as explained below.
Why join? It's fun to remain engaged in the Peace Corps family. NPCA is the primary mobilizer and organizer of the Peace Corps community — made up of over 220,000 RPCVs and countless supporters. We are a powerful collective with a profound global impact. Our doors are open.
All investments, whether earmarked or discretionary, recurring or spontaneous, online or via cash or check, enter the Peace Corps Community Fund. All investments are tax deductible (note, per IRS regulations, a nonprofit member can deduct the cost of a membership minus any monetary benefit received for that membership). 
---
Free Membership
Basic NPCA membership is FREE for everyone in the Peace Corps community – serving Peace Corps Volunteers, Returned Peace Corps Volunteers, current Peace Corps staff, former Peace Corps staff, host country nationals, and anyone who shares Peace Corps ideals, so long as we have accurate service and contact information for you.
---
WorldView Subscription ($25)
For $25 a year, you can receive NPCA's cherished WorldView magazine.
Whether you served ten weeks or ten years ago, WorldView magazine keeps you connected to the Peace Corps experience! In each issue, we feature articles by and about Peace Corps Volunteers, Returned Peace Corps Volunteers, and people who share the global values of the Peace Corps experience. We welcome you to subscribe, write to the editor, or ask about advertising in the magazine.

---
Mission Partners ($50 or more annually)
Mission Partners are supporters who donate $50 or more annually, via subscription giving, cause giving, or both. We rely on the generosity and commitment of our Mission Partners to achieve our goals of connecting the community, advocating for the community, and facilitating the community's philanthropic impact. 
Subscription Giving to the Community Fund (annual renewal)
Donate on an annual basis to NPCA's Community Fund. We'll use your donation where it's needed most and remind you when it's time to renew! 
NPCA offers several subscription levels, including Supporter ($50), Sustainer ($100), Leader ($250), Shriver ($1,000), and Founder ($10,000). Though they vary depending on subscription level, benefits include NPCA voting rights, board eligibility, access to online resources, memberships cards, swag, and VIP events.

---
Cause Giving to the Community Fund (fundraising campaigns)
Donate whenever you want to! Our exciting campaigns support the amazing work occuring within the Peace Corps community.
Exemplary campaigns include Girls' Education & Empowerment, Water & Sanitation, and Benevolence (for struggling community members).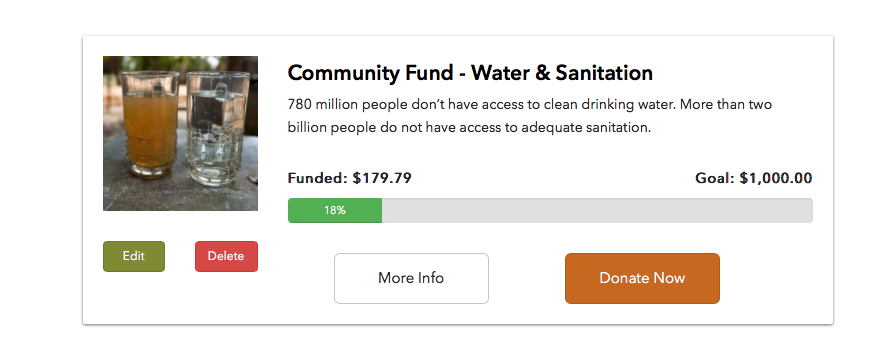 ---
Additional Ways to Give
There are many ways to include the National Peace Corps Association in your philanthropic plans throughout the year.
Your gift will be gratefully accepted and acknowledged. Read our Gift Policies.
---
To make a gift of stock, please instruct your broker to transfer the securities to:
PNC Investment
620 Liberty Avenue
Pittsburgh, PA 15222
Phone: 1-800-762-6111
Brokerage Clearing House: National Financial Service LLC
Account: National Peace Corps Association
Account Number: 097-148446
DTCC Number: 0226
Once the stock is received in the NPCA account, it will be liquidated.  You will receive a letter from NPCA acknowledging your donation and the value of the donation as it arrived in NPCA's account.
Important:  please contact Kate Schwanhausser (phone: 202-293-7728, ext. 18; fax: 202-293-7554; or email operations@peacecorpsconnect.org) to indicate that you are making a gift of securities.  Follow these links to download the instructions and a sample letter to provide written authorization to your broker.
---
The National Peace Corps Association (NPCA) offers an opportunity for you to leave a legacy of peace by naming NPCA as a beneficiary in your will, life insurance policy or IRA. This is an opportunity for you to support the values and actions of the Peace Corps well beyond your lifetime. In addition there can be significant tax advantages to making a gift to NPCA from your estate.
You may choose to bequeath to NPCA a specific amount or all of your estate.  The following suggestions are guidelines and should be written or adapted by your legal counsel to fit your individual situation:
Sample Bequest of Specific Amount
"I give, devise, and bequeath $_____ to the National Peace Corps Association, TAX I.D. #58-1431113. NPCA may be contacted at: 1900 L Street NW, Suite 610, Washington, DC 20036; phone: 202-293-7728"
Sample Bequest of Remainder of Estate
"I give, devise, and bequeath to the National Peace Corps Association, TAX I.D. #58-1431113, all [or state the fraction or percentage] of the rest, residue, and remainder of my estate, both real and personal. NPCA may be contacted at: 1900 L Street NW, Suite 610, Washington, DC 20036; phone: 202-293-7728"
We recognize that writing a will and designating beneficiaries are very personal matters.  If you choose to make a bequest to NPCA, we encourage you to let us know so that we may have the opportunity to express our appreciation. For more information or to express your interest in Legacy of Peace, please download this flyer or contact Glenn Blumhorst.
---
If you are seventy and a half years or older, you may have the opportunity to give to NPCA without suffering adverse tax consequences. On December 18, 2015, President Obama signed legislation passed by Congress which permanently authorizes the Charitable IRA Rollover retroactive to January 1, 2015.
Donors age seventy and a half years or older and older may transfer up to $100,000 from their IRA to a qualified public charity, such as NPCA. The transfer will be made free of federal income tax – and in some cases state income tax – while still meeting the donor's required minimum distribution (RMD). The person wishing to make the rollover contribution must go through the IRA custodian who is administering the IRA. Most IRA custodians have forms on their websites that will permit the distribution to be made to the charity. Click here for more information.
---
If you work for a corporation that makes matching gifts, this is an excellent opportunity to increase the size of your gift, usually by 50% or more. Some corporations even match gifts after retirement for certain employees. Check with your corporation to learn more. Matching gifts are a great way to double your impact!
You can mail any matching gift forms directly to NPCA at 1900 L Street NW, Suite 610, Washington, DC 20036. Please contact us if you have any questions.
---
In recognition of the success of microfinance in helping the world's poor to raise their standard of living, the National Peace Corps Association created a Microenterprise Program (MEP) through which affiliate groups and individuals have the opportunity to invest in micro-credit initiatives. That NPCA loan pool has surpassed $1 million, giving testimony to the RPCV community's ongoing commitment to the developing world. Join others in helping eliminate extreme poverty around the globe. Invest now.
The MEP program happens through the purchase of Community Investment Notes issued by the Calvert Foundation. Investors with a minimum of $1,000 earn a fixed financial return of 0-3%, while generating social returns that are measured in the number of microenterprises and jobs created. You can even donate the interest your investment accrues to NPCA!
While most MEP investors are individuals, many NPCA affiliate groups also recognize the MEP as a worthwhile place to invest funds that are available for a minimum of one year. Friends of Kenya and Nigeria as well as RPCV groups in Chicago, San Diego, Minnesota, South Florida and Washington D.C. have already invested in the MEP.
Among the 550 million people who are currently living on less than $1 per day, there are countless prospective entrepreneurs who have the ability, initiative and energy to change their own lives. This is not a donation that creates dependency but an investment that empowers individuals. By helping people develop a source of income, we also increase the opportunities for their children to attend school and for their families to live healthier lives.
Learn more about the MEP and get investment materials on the Calvert Foundation's website.